The European Machine Tools Industry Bounces Back Despite an Uncertain Global Market
14 June 2022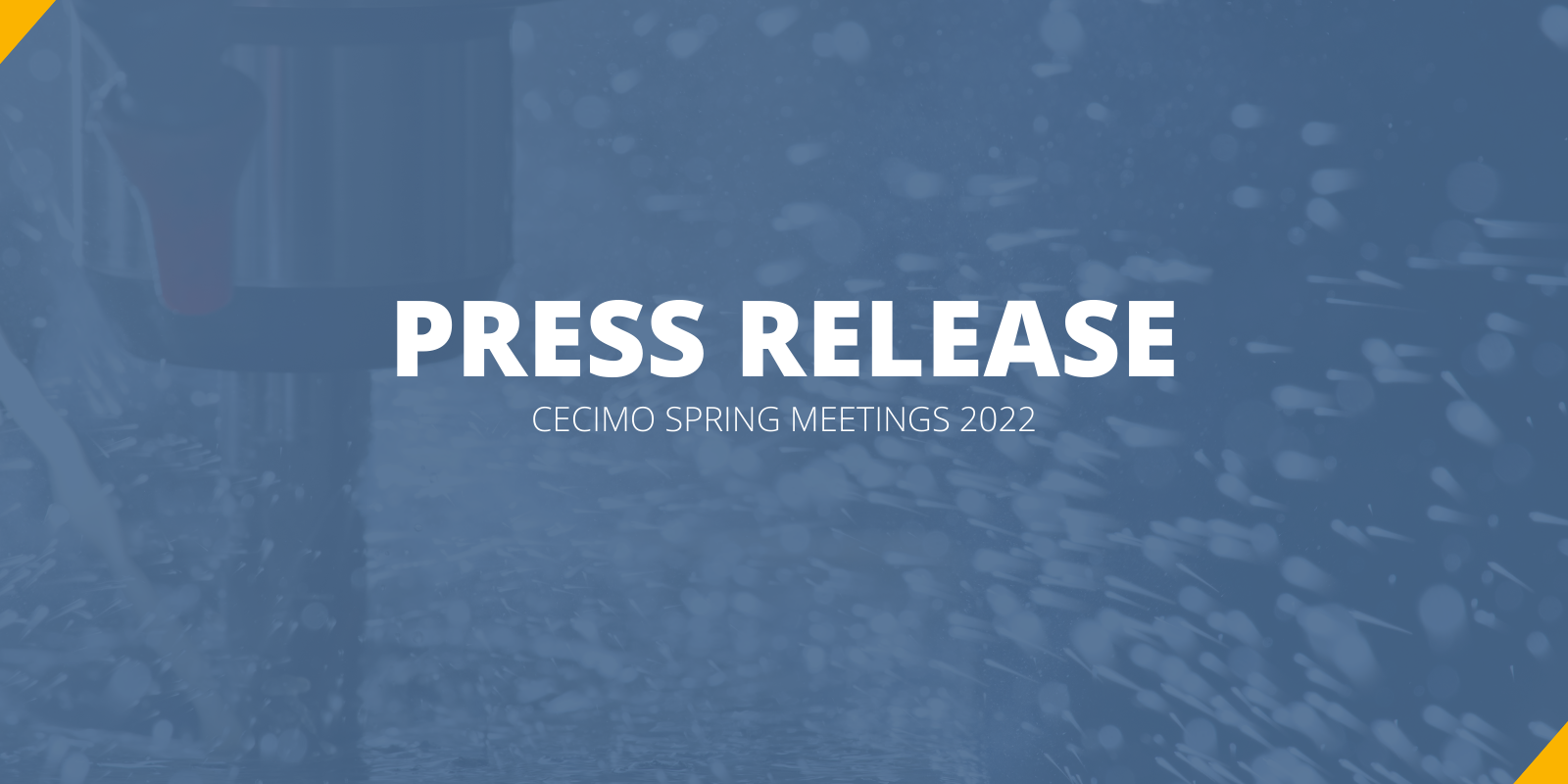 Brussels, 14 June 2022 – During the last General Assembly meeting, held in Edinburgh, CECIMO outlined that in a time of geopolitical challenges, alongside other disruptive factors that shake global economies, Europe's Machine Tool (MT) sector continues its recovery in 2022. On the policy side, together with eminent speakers from the political and business arena, European Machine Tool producers debated on key sectoral issues such as digital transformation, supply chain disruptions, standardisation issues, and sustainability.
Economic Outlook and Trends
The latest CECIMO MT Production estimates have confirmed a strong recovery of the MT sector, with an 11.6% increase in 2021 from 2020 levels. Also, as anticipated, the latest world MT production estimates show that world production has recovered somewhat faster and reached about 72.1 billion euros, reflecting an increase of about 19.7%. Chairman of the Economic Committee, Marcus Burton, underlined that ''despite an uncertain global market, Europe remains the world leader in machine tool production, which amounted to about 22.6 billion euros in 2021.''
Although the MT sector recognises the current problems related to supply chain disruptions and new geopolitical challenges, we continue to observe a further recovery of our sector in 2022. In that respect, our initial estimates show that MT production in the CECIMO countries will increase by around 12%. In addition, according to the latest forecasts from Oxford Economics, strong growth in MT consumption at the CECIMO level is expected in 2022, around 19%.
It is important to point out that we do not foresee any significant impact due to the latest sanctions against Russia on CECIMO's trade balance and exports because the share of the Russian market did already reduce drastically due to previous sanctions. Moreover, given the recovery in foreign orders, we expect a growth scenario for MT exports, and our initial forecast indicates around 9% of growth in 2022. Due to high expectations of MT consumption growth in Europe, MT imports are expected to grow slightly faster, around 12% in 2022.
Growth expectations for 2022 are also supported by strong new orders over the first period of the year. The preliminary CECIMO8 total orders index* for the first quarter of 2022 was up 25% compared to the previous quarter and 14% compared to the same period last year – The total orders index has reached an all-time high. Despite the difficulties faced by the global industry, we expect stable orders levels in 2022. However, as representatives of MT builders, our members discussed the challenges posed by the question of  transitioning from ICE to EV production, which would have a significant impact on manufacturers.
It is important to point out that the recent pandemic-related lockdowns In Asia caused European manufacturers to face new supply chain bottlenecks. While our manufacturers are experiencing very high order levels, supply issues are causing an increase in order backlog. However, at this time, we are seeing an easing of pandemic measures, especially in China, and we expect that supply issues will decrease by the end of the year.
Beyond supply chain disruptions, rising energy prices and inflationary pressures, the lack of skilled labour continues to undermine the competitiveness of our sector and requires new strategies. In line with that, Dr.-Ing. Heinz-Jürgen Prokop, CECIMO President, during the GA meetings highlighted: "…to maintain our competitiveness and global leadership, European manufacturers, more than ever, need a coordinated approach with policy makers to address the skills shortages and develop new strategies to build more resilient supply chains."
In view of the current macroeconomic issues, our special guest, Ivan McKee, Minister for Business, Trade, Tourism and Enterprise in the Scottish Government, underlined in his keynote speech that "Manufacturers in Scotland, and across the world, have faced unprecedented challenges in recent times. In facing these challenges, it is absolutely vital that we come together as a manufacturing community, and I warmly welcome the collaborative spirit at the heart of CECIMO's work. They recognise our desire to support our manufacturers to seize the opportunities provided by the markets of the future. This is why we are supporting the sector through initiatives such as our £75 million investment in the National Manufacturing Institute Scotland (NMIS) and our recently launched Low Carbon Manufacturing Challenge Fund (LCMCF)."
Policy Debates
The 2022 CECIMO Spring Meetings put the spotlight on the Shaping the Future of Manufacturing, as part of the main conference. In that respect, the high-level guests from business and politics gathered to discuss the impact of digital transformation on the industry, highlighting the challenges and opportunities that this transition brings to businesses operating in the manufacturing sector. A dominant theme during the conference was the importance of deeper cooperation between industry players and policy makers in a sector that innovates at a faster pace than ever. Understanding and anticipating how pioneering technologies, innovative business models, and new partnerships are transforming businesses and governments' is of paramount importance for the future of our sector. Speakers also highlighted the importance of supporting SMEs in adopting new technologies to ensure a seamless transition towards a digital and green economy.
*CECIMO8 Total orders index is a combined domestic and foreign orders index of eight major CECIMO MT producers (Germany, Italy, Switzerland, Spain, Austria, France, the United Kingdom and the Czech Republic), weighted by 2015 production levels.