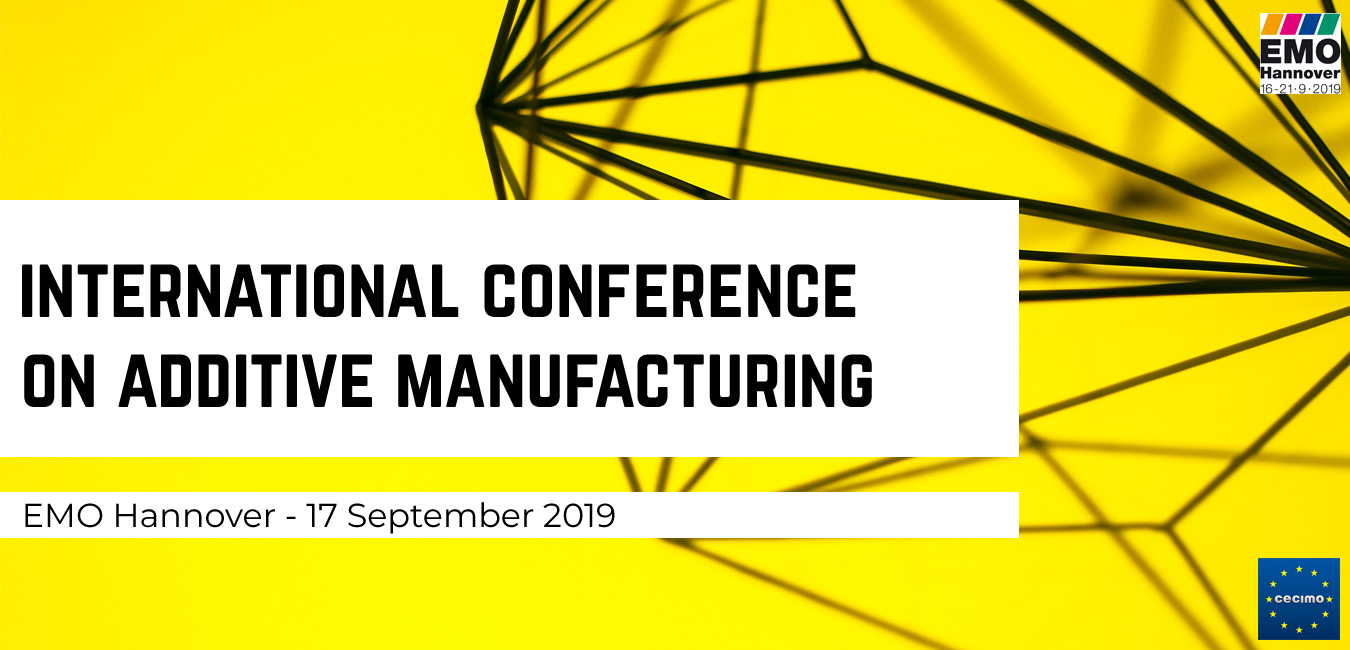 WHEN
Tuesday 17 September 2019
From 9:30 AM to 12:30 PM CEST
WHERE
EMO Hannover 2019
Convention Center – Room 3A
Deutsche Messe, Messegelände
Hannover 30521 – Germany
CECIMO organises on 17 September 2019 during EMO Hannover 2019 the "International Conference on Additive Manufacturing".
The conference will look at the latest productivity solutions in the additive manufacturing (AM) market, especially for its industrialization. On stage you will listen to industry key leaders, who will share their views on where industrial AM stands today.
Productivity has indeed become one of the trendiest topics in the AM industry. Now that the technology has moved beyond prototyping and found its first serial production applications, businesses are analysing aspects such as efficiency, repeatability and speed. Any advancement on any of these will undoubtedly unlock a myriad of opportunities. The race to push the industrial boundaries of the technology has truly begun.
Registrations are already open, just click on the button at the end of this page!
09:15 - 09:45 Welcome Coffee
09:45 - 09:50 Opening remarks
Filip GEERTS, CECIMO Director General
09:50 - 10:05 "Real-Time Process Monitoring Accelerates Process Development and Streamlines Process Control"
Marc SAUNDERS, Director of AM Applications at Renishaw
10:05 - 10:20 "Multi-Laser Metal Additive Manufacturing: Increasing Productivity for Qualified Serial Production"
Philip ORIS, Business Development Director at SLM Solutions Group AG
10:20 - 10:35 "ENCOMPASS - An Integrated Design Decision Support Solution"
Harrison RAYBOULD, Research Engineer, at MTC
10:35 - 10:50 "Additive Manufacturing from end to end – hard- & software solutions along the process chain"
Patrick MEHMERT, Product Manager, at Simufact (Hexagon´s MI division)
10:50 - 11:05 "Overview of Laser Metal Deposition Technology by TRUMPF – Applications, Trends and Products"
Marco GÖBEL, Industry Manager for Surface Technologies, LMD, at Trumpf.
11:05 - 12:30 Panel discussion on ''Accelerating the industrialization of Additive Manufacturing''
Moderator: Matthias SCHMIDT-LEHR, Managing Partner at Ampower
Panel:
Stewart LANE, Corporate Manager at Renishaw and Chairman of CECIMO Additive Manufacturing Committee
Marco GÖBEL, Industry Management Surface and Macro TLD, at Trumpf
Patrick MEHMERT, Product Manager, at Simufact (

Hexagon´s MI division)

Philip ORIS, Director Business Development Medical & Dental at SLM Solutions Group AG
Nick CRUCHLEY, Senior Research Engineer, at MTC
"Additive manufacturing systems have seen significant increases in productivity improvement in recent years. In laser powder bed fusion technology, the increase has been gained through development of multi-laser systems in combination with higher power lasers."

Philip ORIS


Business Development Director at SLM Solutions