The European Union (EU) internal market assures the free movement of goods, services, capital and persons since 1993.
To freely circulate within the single market, goods need to conform to the requirements of European legislation. By including the CE marking to a product, a manufacturer declares that the product meets all the relevant legislation. Market surveillance, this is, checking whether products meet the applicable requirements, is also crucial for the smooth functioning of the internal market.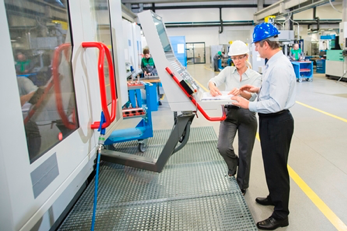 EU Machinery Legislation
European machine tool manufacturers need to comply with the Machinery Directive 2006/42/EC, which aims at promoting the free movement of machinery and keeping a high level of protection for EU workers and citizens.
The Directive is currently being evaluated by the European Commission (EC), especially in the light of new technological developments and their possible impact on the safety of users. CECIMO is actively contributing to the impact assessment study which will collect evidence on different issues that might call for a revision.
Standards
One of the means to comply with the requirements set by EU legislation is the use of harmonised standards. Standards define the state of the art and updating them is the best method to respond to new technological developments, rather than changing the essential requirements of Directives. CECIMO is actively involved in standardisation activities affecting the Machine tool and related manufacturing technologies sector:
• ISO/TC 39 on Machine Tools
• ISO/TC 184/SC 1 on Physical device control
• ISO/TC 261 on Additive Manufacturing
• ASTM F42 on Additive Manufacturing
CECIMO has participated actively in the MSP/DEI Commission Working Group on Standards for Digitising European Industry which aimed at mapping existing standards, identifying needs and providing a roadmap to foster standardisation in support of the digitalisation of European industry. CECIMO is also a member of the Advisory Board for the ASTM's AM Center of Excellence.
Guidelines for CE Marking
Manufacturing equipment is often complex, and too large and expensive for lab testing. This means it is difficult to determine on-site if the design is compliant with safety regulations. To support market surveillance and customs authorities in their controls, CECIMO publishes guidelines for CE marking providing a quick check-list to help conformity assessment. The guidelines can also help to raise awareness among economic operators, importers, dealers and end-users about European safety requirements and encourage responsible purchase behaviour.
Regulation on enforcement and compliance
The non-enforcement of EU regulations creates unfair competition and undermines the competitiveness of those economic operators who do comply with the rules. That's why effective market surveillance is essential to create a level playing field, which encourages competition centred around high health and safety standards, and not as a race to the bottom at the expense of these standards.
The EU has proposed a "Regulation on compliance and enforcement", which establishes additional requirements in order to strengthen market surveillance and improve cooperation between all relevant actors. CECIMO supports the overall aim of the regulation but finds that some provisions could create additional burden to companies.
Intellectual Property Rights and Product liability
Industrial IPRs aim, among their different objectives, at protecting inventions, designs and advancement in technology, thus stimulating investments in research and advancement of new technologies. The European Union is looking at the suitability of the existing regulatory framework on IPR and product liability in relation to the emergence of new technologies such as additive manufacturing. CECIMO, as association representing Additive Manufacturing at European level, is stressing the risk of over-regulation and focussing the legislator attention on technical solutions driven by market demands.
Posting of workers Directive
The Posting of workers Directive sets mandatory rules regarding the terms and conditions for employees sent by their employers to perform a service in another EU member state on a temporary basis. CECIMO welcomes the policy objective of the Commission, i.e. to ensure fair wages and guarantee a level playing field between posting and local companies throughout the EU. Nevertheless, the revised Directive introduces several legal and bureaucratic elements which discourage SMEs from posting workers, especially when those requirements differ among EU member states.
CECIMO calls for the European Commission to ensure Member states correctly implement the exception allowed by the current Posting Directive for initial assembly and/or installation, as well as postings for all short-term operations. Another step in the right direction would be to agree on common reporting requirements for posted workers at European level and the same kind of documents to be submitted in all member states in English.